Diversity, Equity & Inclusion
VISION STATEMENT
PRIME has an unwavering commitment to an organizational culture that fosters and embraces diversity while building a workplace that encourages and empowers total inclusion. Diversity and inclusion drive our success and strengthen our company by inspiring innovation, creativity, and partnership in the way we work. By engaging everyone's full potential and integrating everyone's contributions, we strive to create a sustainable framework that will cultivate a diverse and inclusive place to work in the office and on the field. Diversity and inclusion are fundamental elements of PRIME, and we all share the responsibility of fulfilling this commitment.
PRIME has committed to the AGC Culture of Care Pledge – believing that every individual has the right to work in an environment that is free from harassment, hazing, and bullying. We will take action to ensure every employee at our company has the opportunity to reach their full potential by building a culture that is diverse, safe, welcoming, and inclusive.
To learn more about the AGC Culture of Care, visit: https://buildculture.org/commit/
INITIATIVES
We recognize that there is much we can teach and learn from our diverse partners and team members and we are committed to doing our part to provide a workplace and industry that encourages and empowers total inclusion, access, and equity.
Embracing Diverse Subcontractors + Suppliers
Prime Electric seeks to foster growth in underrepresented local subcontractors, professional service firms, and suppliers, partnering with them to enhance their skill set, experience, and resume to grow and develop their businesses.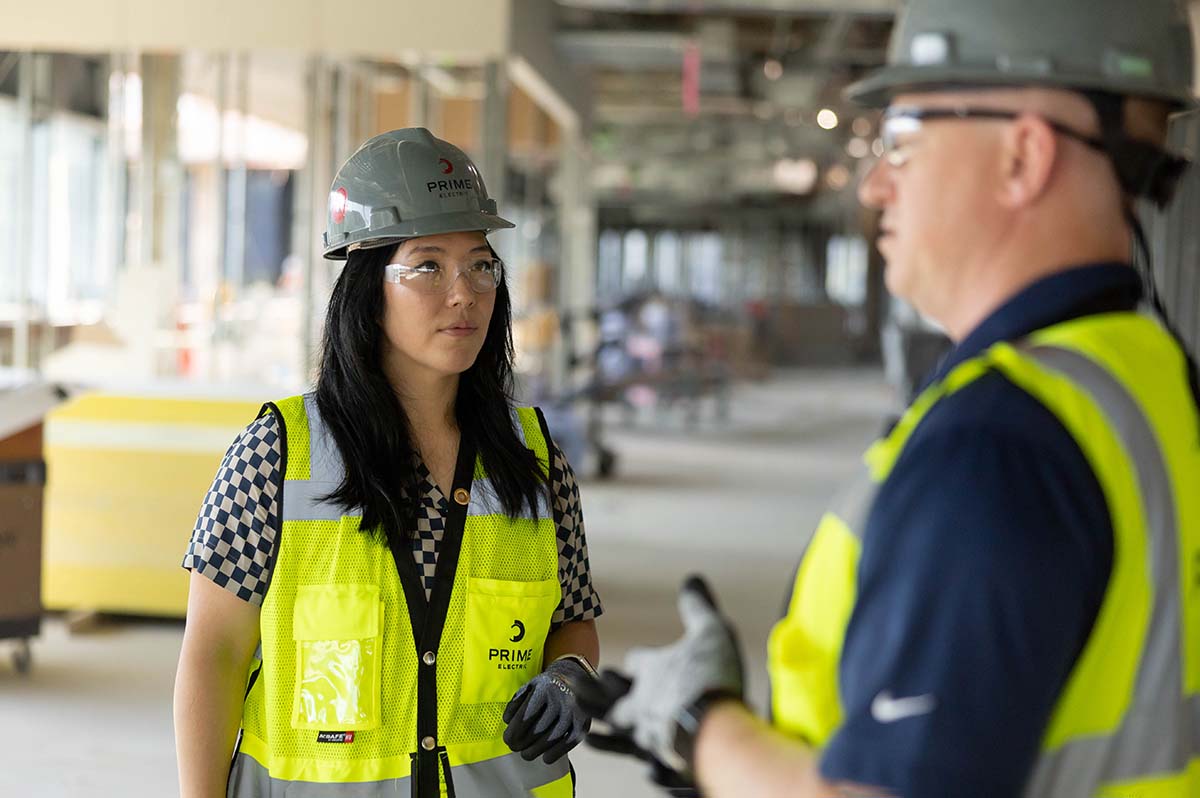 Culture of Inclusion
We care deeply about our team members and are actively working to provide a safe, equitable environment for all. The following programs were created to provide an internal framework of support, education, and connection opportunities for our team members and ensure equitable access and a true culture of belonging:
Women In Construction Council
DE&I Coalition
Wellness Program
Mentorship Program
Diversity in Recruiting
PRIME's Recruiting team weaves our DE&I messaging throughout their entire process by creating inclusive job postings and providing an accessible and flexible interview process. Additionally, by partnering with pre-apprenticeship programs such as ANEW and Cypress Mandela, we have been able to expand our talent pipeline and fill multiple roles both in the field and office.
Work with Us!
Community Involvement
PRIME continually supports and uplifts the communities in which we live and work through civic engagement and social responsibility. Check out our
Culture
page to learn more about the organizations we support.
As a minority and woman in construction, I can relate to the diverse experiences of our team members and partners. With my background in process improvement, project management, and business development, I have the unique opportunity to develop programs and partnerships that are meaningful and authentic. I am grateful to PRIME for the endless support and commitment to making our industry a more inclusive and equitable place.
Interested in learning more about life at PRIME?